Important Announcement - iWorld Store Closing

Dear iWorld Connect Clients,

We are excited to announce an important transition that will enhance your experience with iWorld Connect. As of October 2023, we will be transitioning to an online Apple community marketplace. While this transition means our physical stores will be closing in September, we want to assure you that our commitment to serving you remains unwavering.

At iWorld Connect, our primary mission has always been to create a trusted network where Apple enthusiasts can seek expert support and guidance. Our team of Apple Experts, who are thoroughly vetted and exceptionally knowledgeable, will remain dedicated to providing you with the highest level of assistance.

In the coming weeks, we will be unveiling our ViP Concierge platform, designed to elevate your experience with us. As an esteemed iWorld Connect client, you will automatically become a ViP member of our online community marketplace.

Rest assured, our dedicated team at iWorld Connect will continue to be at your service, addressing all your Apple technology needs. We are committed to ensuring a seamless transition and maintaining the same level of excellence that you have come to expect from us.

Thank you for your continued trust and support as we embark on this exciting journey towards a more connected and vibrant Apple community.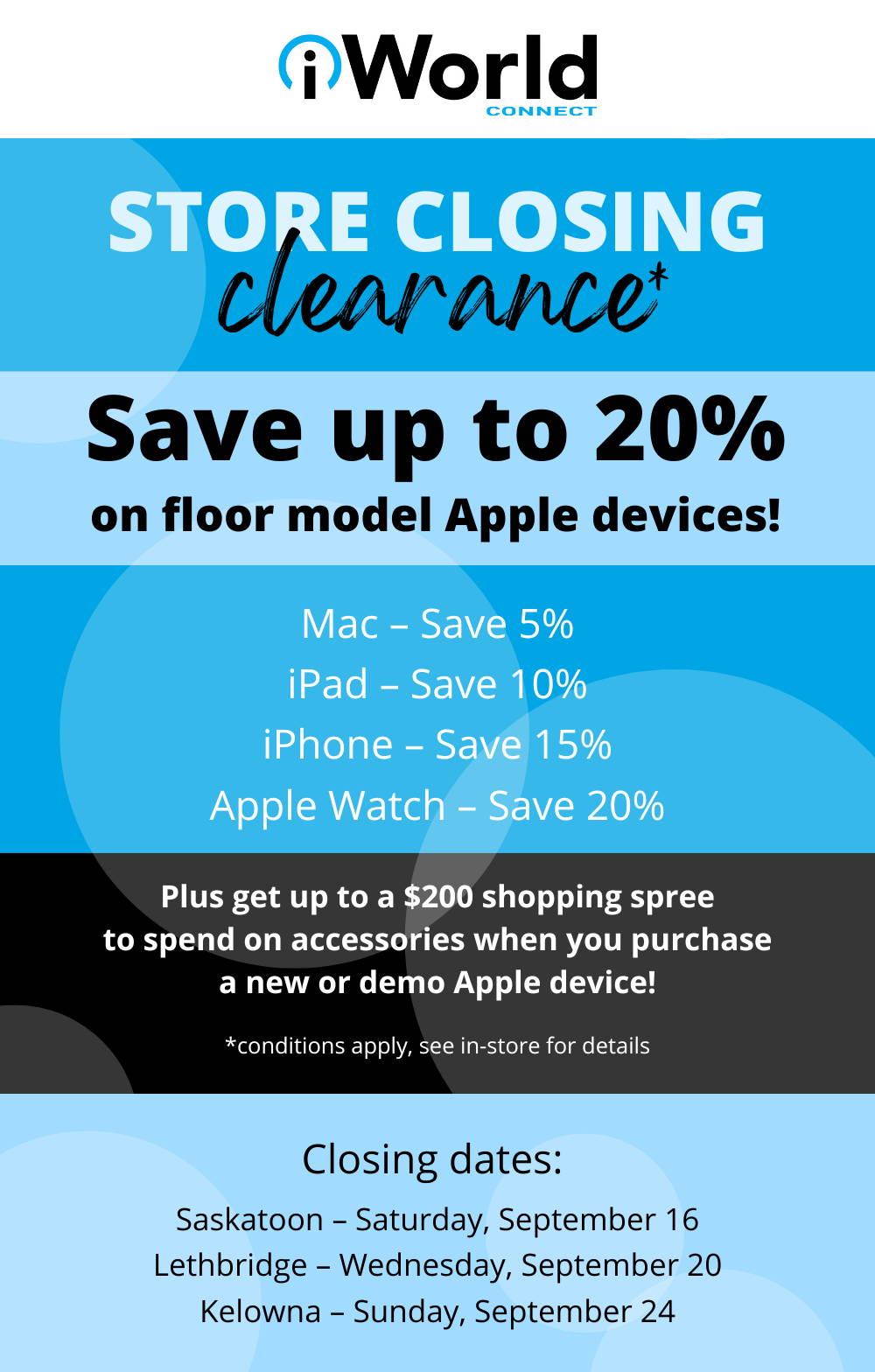 1. Savings are calculated from iWorld retail price.  Floor model Apple devices come with a minimum 30-day defect warranty from iWorld Connect or Apple Limited Warranty whichever is longer.  Some floor model Apple devices with have option to add AppleCare+ Coverage, ask your Apple Expert.
Floor model devices must be purchased on lay-away until the store release date (varies by location).  Minimum 30% non-refundable deposit must be placed on the device to secure lay-away.
2. Floor model Apple Watch does not include band or charging cable. Client can use Shopping Spree towards band and/or charger of their choice.
3. Promotional "shopping spree credit" is calculated by adding together the pre-tax purchase amount of Qualifying Products.
Shopping spree can be used towards 3rd Party or Apple Branded in-stock accessory products and/or financing plan administration fee.
Shopping spree cannot be used towards multiples of the same accessory product.
Shopping Spree" amount cannot be used towards Apple Hero Products, AppleCare+, Gift Cards, AirPods lineup, HomePod lineup or Apple TV.
If the value of accessories added is below the eligible promotional value,  the promotional value is then equal to the value of accessories and the balance is forfeited.